Saturday, July 12th
On to North Dakota

We gassed up and headed east out of Billings on 90, and then caught I-94 about 7 miles out of town. For the next two and a half days our itinerary would be a simple matter of staying on I-94. About an hour out of town we passed a turnout to Custer. The nearest point of interest to Billings is Little Bighorn where General Custer uttered his famous last words: "Look at all those fucking indians".

I'd been meaning to get a haircut and this seemed like a logical place, but we had a long drive ahead of us so I decided against it. Lunchtime was approaching, and I considered pulling off the highway at Custer's Last Hamburger Stand, but instead we just munched on some food that we had brought with us.

I continued to marvel at the landscape, but there seemed to be something strangely familiar about it. Eventually I realized that I had been over this countryside countless time playing ATV Offroad Fury II. I had to admit though this experience was even more immersive, and the resolution was even better.

We pulled into a rest stop to get some pictures of the Offroad Fury terrain And daisy noticed some silly sign about rattlesnakes.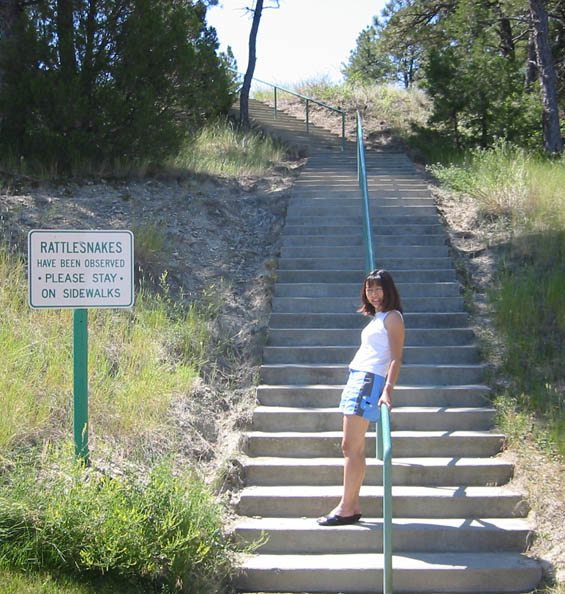 I wasn't worried about rattlesnake bites because I had one-inch thick soles on my flip-flops, so after Daisy got a picture of me to prove I'd been there,




I decided to venture up over the hill for some better scenery.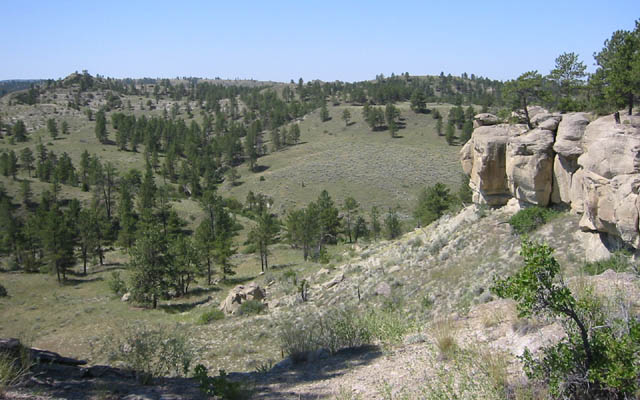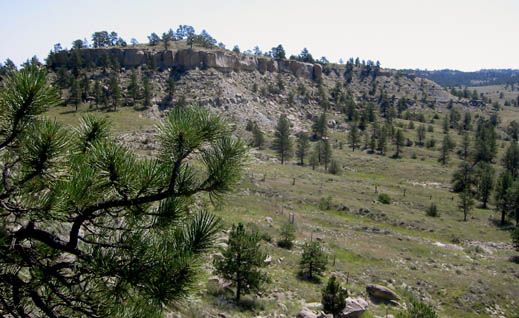 Another phenomenon that we couldn't help but notice once we got out of Billings was the bugs. I had heard about the legendary Minnesota mosquitoes but the front of our car had been collecting bugs by the thousands long before we hit North Dakota.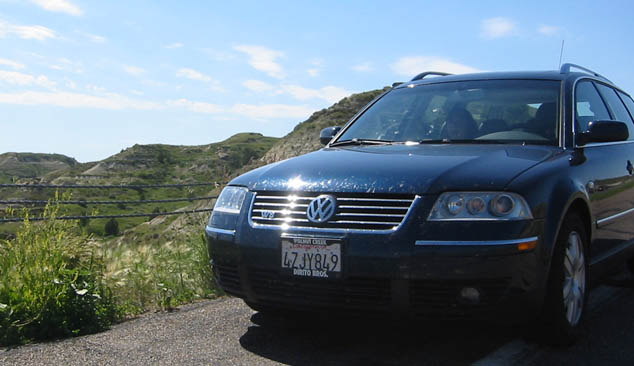 I've usually approached windshield cleaning with a meticulousness and zeal befitting a skilled trade, rather than the minimum wage job that it was actually associated with. By the time we had gotten to North Dakota though, I would clean the windshield at a gas station next to an on-ramp and we would pick up a bug before we had merged onto the freeway. This was something that we were just going to have to get used to. After all, the bugs seemed to have gotten used to it. This phenomenon was to continue until we were heading south out of Wisconsin. But I'm getting ahead of myself.

It's easy to get ahead of yourself in country where the posted speed limit is 75. I had the cruise control set at a eighty, which I regarded as a prudent excess in the highly unlikely event that we were clocked by one of Montana's eight state troopers. The further we got from Billings, the fewer cars that I saw on the highway. I-95 is two lanes in each direction but there were plenty of times when I couldn't see another car on my side of the highway - ahead or in the rear-view mirror. If I had wanted to test out my car's top speed this would have been the place to do it, but my tires are only rated at 130 m.p.h. and besides, I'm hoping to make this whole trip without getting any tickets. Unlike a certain entrepreneur that I know, I'm trying not to amass an impressive portfolio of divestments.

Having said that, if you are the sort of person who likes to explore the governed speed limit on your Z06 or C32 (and you know who you are), this is the place to do it. On a stretch of highway as sparsely populated as this, it's interesting to note that I saw two Vipers on the same day.

After a while we passed through a town and I noticed lots of mobile homes. That could only mean one thing: Tornado Country*. Then as we got closer to North Dakota the terrain began to change. Fifty miles before the North Dakota border it was obvious that we were approaching The Badlands.





A mile after we passed into North Dakota we decided to pull into the teeming metropolis of Beach to gas up.




The only gas station we saw at the base of the off ramp was some off-brand that we didn't recognize, so we decided to drive the short distance into town. It was only about a mile to the south and about seventy-five years into the past. This town wasn't sleepy; this town was comatose. After driving up and down the main drag at the posted speed limit of 25 m.p.h. and back and forth we decided that our choice was off-brand gas or no gas.

The further we traveled east the more the terrain looked like we were entering the Badlands. Daisy had the GPS going so we wouldn't miss our turnoff to drive along the Little Missouri River - said to be the best stretch of scenery in the Badlands. Just after we saw the turnout Daisy's GPS crashed and took down her laptop with it. Once we had taken the turnoff we saw a line of cars to the left entering Theodore Roosevelt National Park, but the map that I had looked at previously had indicated that we wanted to go right so I proceeded along the road. Before long we discovered that we were inexorably being routed back onto I-94. Shortly thereafter Daisy got her GPS rebooted, and it indicated just after the nick of time that we had somehow missed our exit to the most scenic section of the Badlands. By the time we reached another turnout we had gone a considerable distance so we decided not to go back. We just took some pictures at the scenic turnout...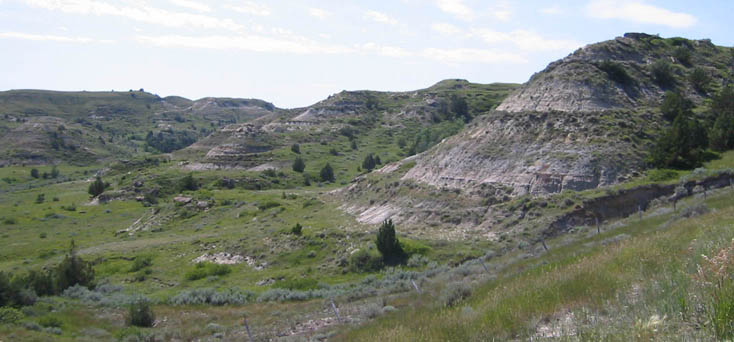 ...and proceeded on to Bismarck, North Dakota.

North Dakota is some very scenic country (at least the eastern half - I missed the western half, but more on that later). It's a constant evolution from Bozeman, Montana to Bismarck, North Dakota, but with the exception of Billings it's all quite beautiful. If we had proceeded directly east from Logan to Chicago we could have saved 500 miles but once we had passed Wyoming it wouldn't have been worth it. I've never actually been to Nebraska, but from what I've heard I'm convinced that we did the right thing by taking the northern route.

About 100 miles from Bismarck, I picked up an NPR affiliate that was playing "A Prairie Home Companion". It didn't look like we're on a prairie but I knew We were in that neck of the woods. We couldn't be more than a couple hundred miles from Millet and Lake Woebegone. I've always liked the program (except for that gospel crap) but now I really felt like I was part of it.

We rolled into Bismarck around 6:30 and set our clocks ahead for the second time. After checking into the Radisson and unpacking the car we headed back across I-94 for what I figured a big night out in Bismarck would be: We went to Red Lobster. I had noticed at the hotel that we were in "you betcha" territory and our experience at Red Lobster was similar. In retrospect I suppose we could have gone to a smorgasbord for the full "Fargo" experience. Anyway, dinner was not bad and they had Sam Adams. No Sierra unfortunately, but I was just thankful that they had more than Pabst Blue Ribbon.

It was still light outside when we left the restaurant shortly before 10. I was surprised at how long the sun stays up at this latitude, but then again, I'd never been this far north before - at least not in America, and not in the summer.

I was looking forward to getting back to the hotel to start writing this journal, as I had been receiving emails requesting a travelogue. As we walked back to the car however I noticed that our left rear tire was flat. My right arm has been giving me trouble for several weeks now and lately I have taken to wearing an arm brace. The last thing I needed was to have to change a tire. As soon as I pulled the wheel off Daisy noticed that there was a nail stuck in the tire so it wasn't hard to figure out why we had a flat tire. I had the tire changed in about fifteen minutes, and after cleaning up a little we drove back to the hotel with one of those stylish donut spare tires that you're supposed to drive no farther than fifty miles and no faster than fifty miles per hour.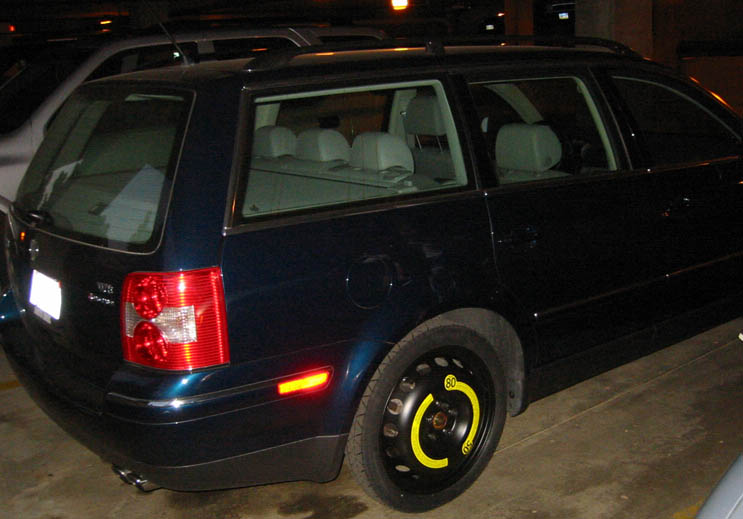 It turns out that Bismarck is the wrong place to get a tire repaired on a Saturday night. We called AAA but they were no help. They recommended a few places that might be open at noon on Sunday, but we wanted to be on the road at 9. It was about a quarter past 10 when I asked at the hotel desk for suggestions. They confirmed that I was in the wrong place at the wrong time for an automotive emergency. I pressed the issue and asked if there was a parts store open at this hour. "No", they said, but I might be able to get a repair kit at Wal-Mart, they're open 24 hours - except Saturday night, when they close at midnight and don't open till noon.

So with the clock ticking, Daisy and I piled back into the VW and drove (cautiously) to Wal-Mart. We got there around 10:30 and they did have a patch kit. They also had a pair of pliers for removing the nail, and a pair of dikes for cutting the plug after inserting it into the tire. I've never done this before and I've only seen it done once, but it turns out that it's such an incredibly simple process that we had the hole plugged in about ten minutes. Not before my elbow was thoroughly thrashed of course, but it had been thrashed for weeks anyway.

Once the hole was plugged it was a fairly simple process of finding a place where we could fill it. We only had to stop at two gas stations before finding an air pump that worked, and it's interesting to note that air is still free in Bismarck. By 11:30 we were back at the hotel with the wheel back in place; Too late to work on the travelogue but not too late to take a shower and read a few pages of my book before passing out.

*and Western


Distance this day:
Total distance:
Previous day in Montana
Next day in Minneapolis