Burgos
We rolled into Burgos around 3 PM. Burgos is an ancient city dating back to the first millennium, and it is the hub of the up-and-coming Ribera Del Duero wine region. And because Burgos is situated well inland and at a fairly high altitude, it's also colder than a well digger's ass in January. Apparently while it had been raining on us during our drive to Gijon the previous day, it had been snowing in Burgos. Once we got off the train and waited a while in the freezing cold, we caught a taxi up the hill to our hotel.
From our hotel we could see the spires of the main cathedral (Catedral de Santa Maria) in Burgos. It's an impressive sight, more impressive even than the Watts Towers, but the resemblance is there. Apparently, it took over three hundred years to complete. When you get up close and go through it, it's not hard to imagine why it took that long. The painstakingly intricate detail is staggering. In addition to inspiring such architectural marvels as The Watts Towers, I'm convinced that the flying monkeys in The Wizard Of Oz were inspired by some of the gargoyles (or goblins) that adorn the outside.
And speaking of The Wizard Of Oz, I'm really starting to realize there's no place like home. Maybe I'm just getting old and sentimental but I'm really beginning to realize how much I've taken life's simple pleasures for granted. Things like my PS2, my Xbox, loud electric guitars - not to mention good food, good coffee, and San Francisco's namesake, yerba buena. I guess I'd just taken those things for granted...
But I digress. Frommer's recommended a restaurant in town that served roast chicken with sweet peppers. While I didn't dare to hope for a roast chicken as good as the one at Safeway, I was anxious to find anything other than red meat or sausage, and I thought the sweet peppers would be a refreshing departure from canned potatoes. Furthermore, Frommer's asserted that the vegetables are fresh, so I marked it with a highlighter. When supper time rolled around we headed out.
Alas, when we got there they no longer had roasted chicken and sweet peppers, so I opted for the roasted suckling pig. It suckled alright. Big time. And as for fresh vegetables, I suppose the potatoes were fresh before they fried them. The wine was good though...
After dinner, as we passed the cathedral again I had to admit that not only was the intricate detail staggering, but I was staggering a little too.
Tuesday, 4 January - I managed to sleep in till almost 6 AM before actually getting up. Daisy was having greater success sleeping so I showered and decided to explore the old-town section of Burgos, which was situated just down the hill from our hotel, past the cathedral. I got fully layered in thermals, wool sweater, muffler, and coat and left the hotel around 7.
Being careful not slip on any ice I made my way down the hill into old town. A few people were making their ways into their respective shops, but nothing was actually open in the old town, so after wandering around for a while I worked my way out of the more touristy old town section and into the heart of the real town where I figured that surely somebody has to get a cup of coffee before 8 in the morning.
I found a place just outside of old-town and pounded down a couple cafes con leche before heading back to the hotel. Daisy was up by this time, so once she was ready we headed back down the hill.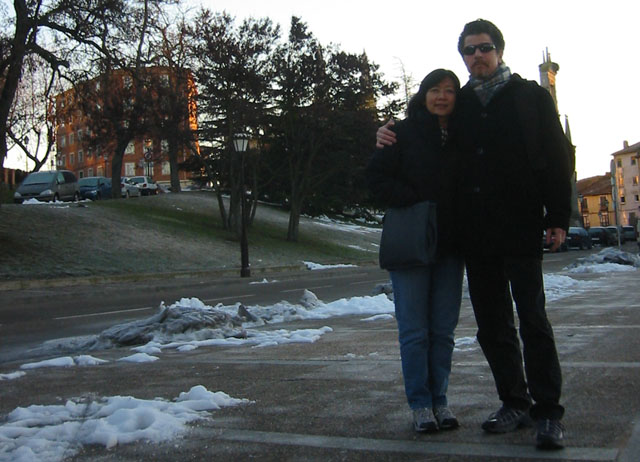 By now it was around 9, and a cafe had actually opened in the old part of town, so we headed in there and each had a cup.
After breakfast we went for a thrilling and chilling tour of the cathedral.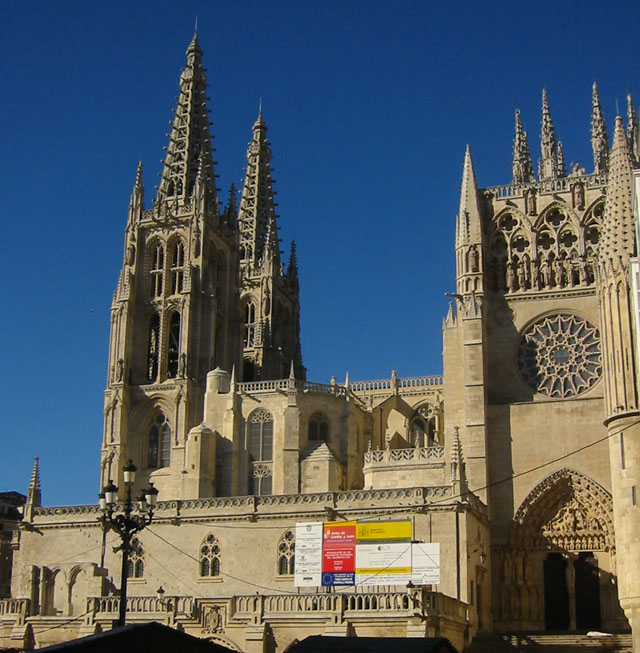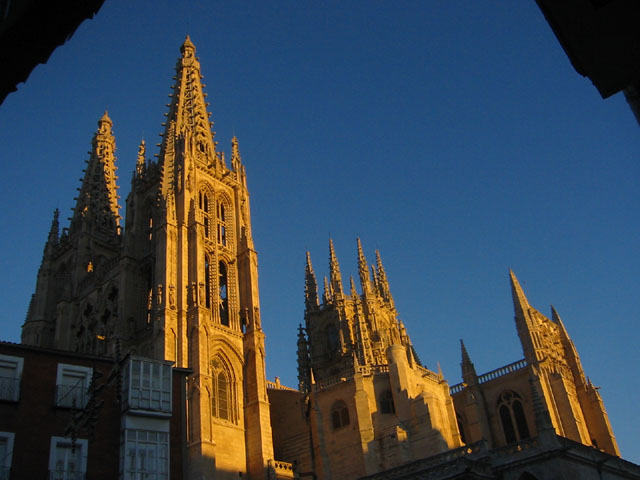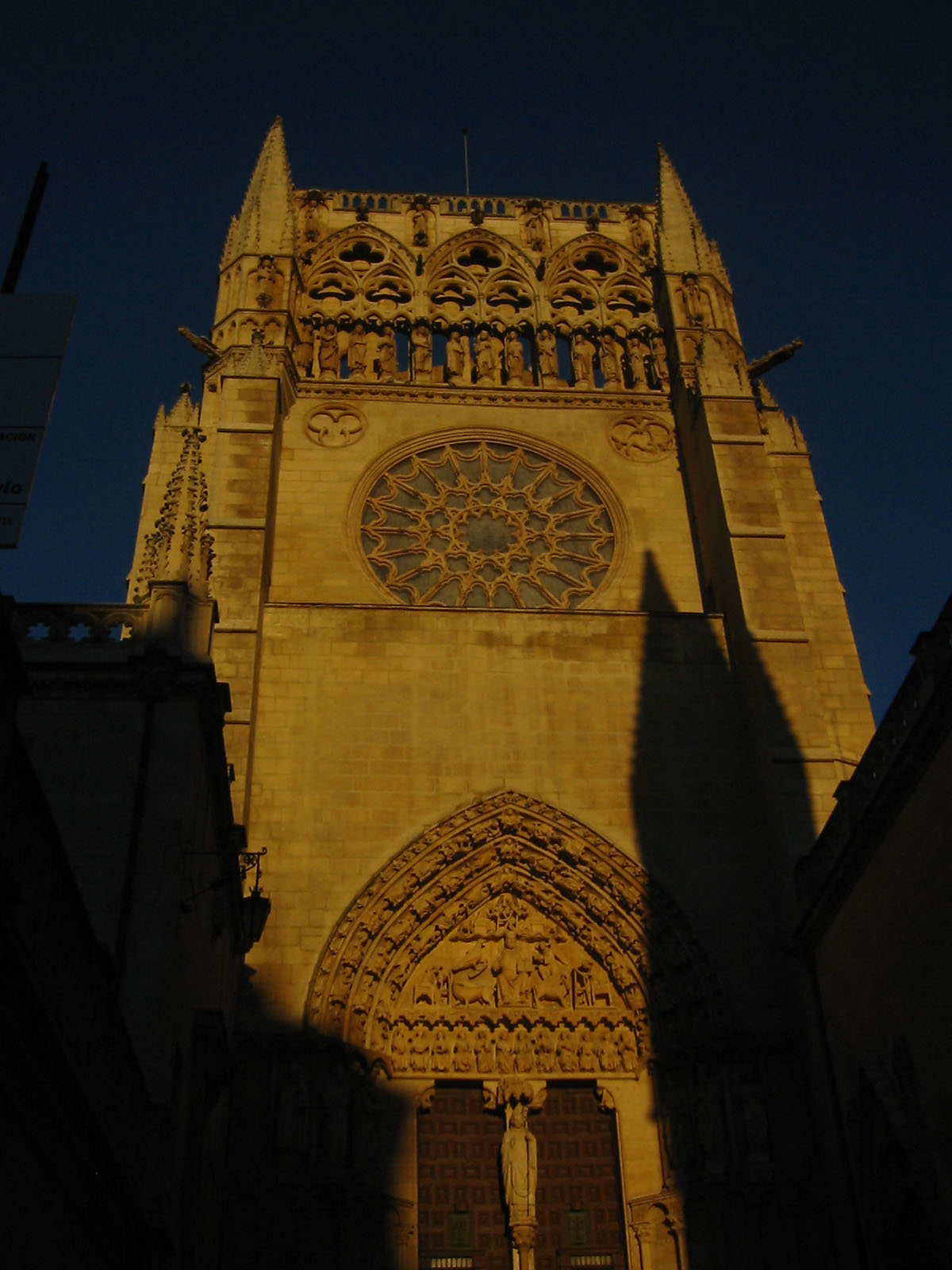 I suppose it's hard to heat a stone cathedral when it's freezing outside. They didn't try. The taquilla was warm where we got our tickets and our self-guided-tour MP3 players, but once we got inside the cathedral it was like a morgue. Or a tomb, and there are plenty of people entombed there. Fortunately, we were bundled up pretty tight so I managed to make it through most of the tour before I started to lose feeling in my toes. It was impressive though. I found it more impressive than the Vatican. And the Vatican is heated!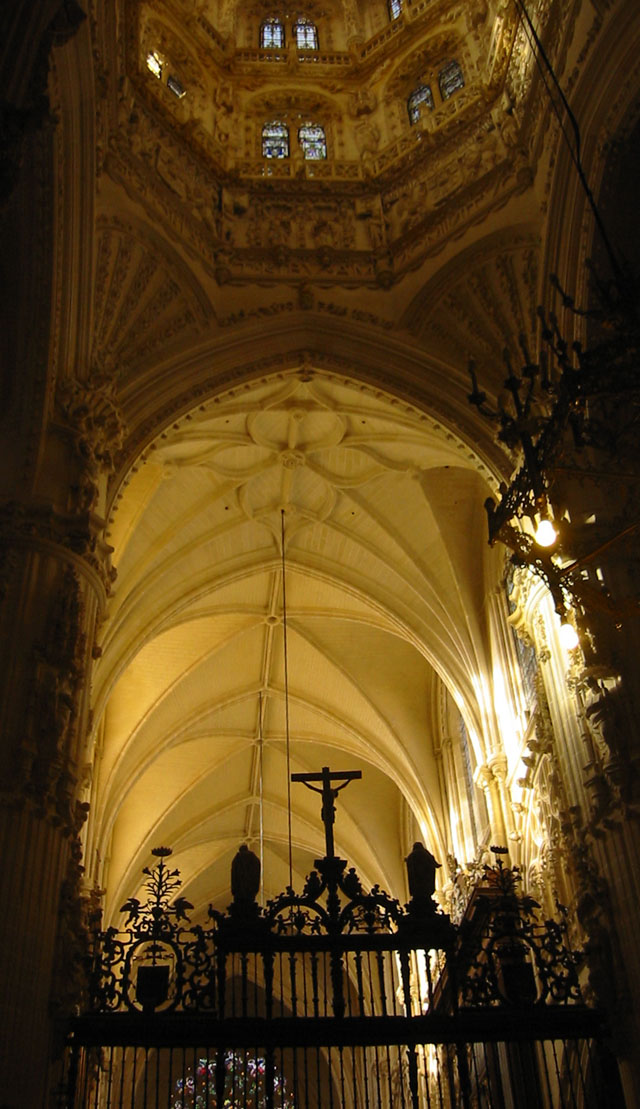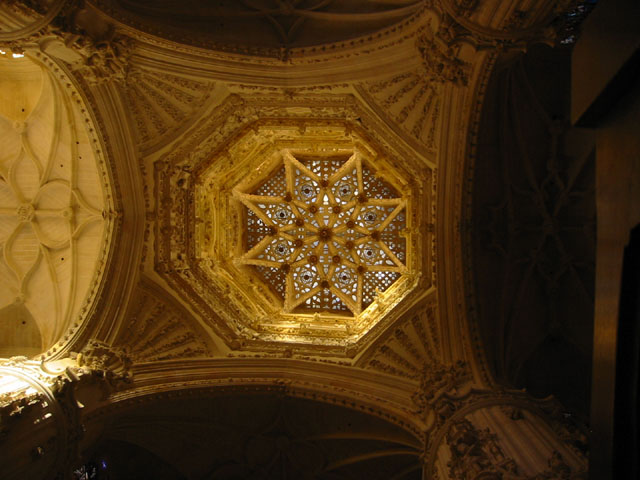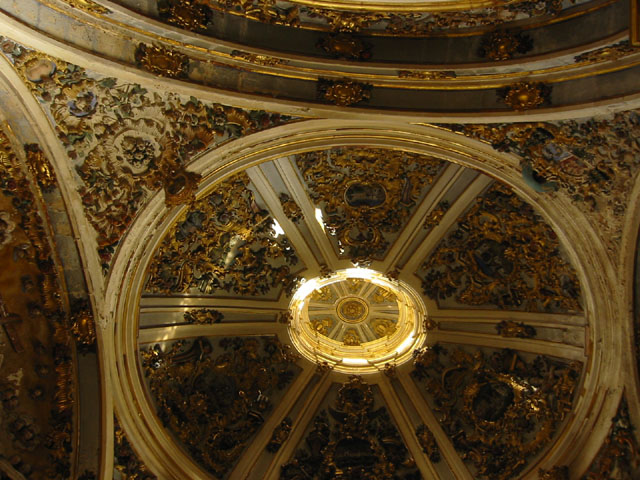 According to Frommer's it gets scorching hot in Burgos in the summer. I'm guessing that the line to get into the cathedral is a lot longer in the summer.
After our tour of the cathedral we hiked up the hill to the castle that overlooks the city, and in a foreshadowing of what was to be our experience in wine country, it was closed for the holiday season.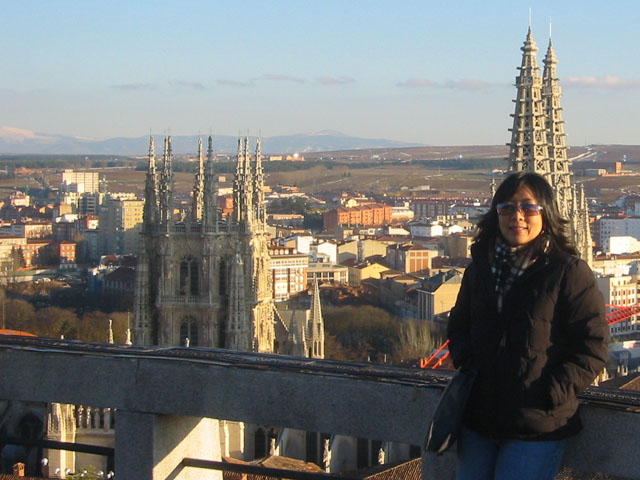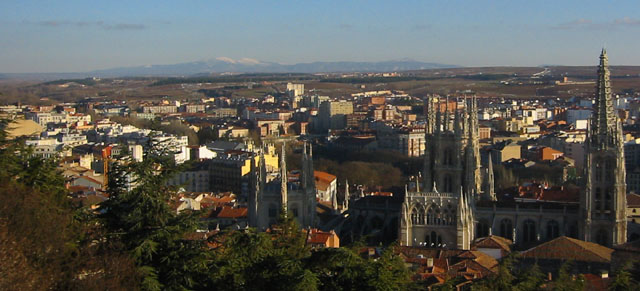 We snapped a few obligatory tourist pics and then hiked back down the hill and out of old-town, into the modern section of the city where we sought out a department store to see if I could buy some wool socks and gloves. Daisy had had the foresight to bring both - just to spite me, but I urgently needed to do something about my freezing extremities. Since they have lots of cows in Spain they also have lots of leather products, so I reasoned that perhaps I would be able to find a nice pair of leather gloves while I was in Burgos. But it was not to be. I did score on the wool socks however, and since it was getting dark (and freezing cold) we wandered back to the hotel where I could try on my new socks.
It was nice to feel my toes again. It's the sort of thing you tend to take for granted until you can't do it - and it was a little excruciating at first during the thawing process, but after that it was a big improvement.
For dinner we decided to try the restaurant at the El Cid (pronounced Ayl Theed) hotel, which according to Frommer's, is more renowned than the hotel itself. As usual, we took the wait staff by surprise by arriving at the ridiculously early hour of 8 PM, but our waitress was gracious, and after snubbing out her cigarette showed us to a very nice table overlooking the cathedral.
Like many of the buildings in the old part of Burgos, this one was several hundred years old, constructed with large stones and wood beams. It had a castle-like ambiance, without the draftiness. For starters I ordered the vegetable stew and Daisy ordered the asparagus, which turned out to be white, canned asparagus with two kinds of sauce - and a few scraps of lettuce. The vegetable stew however, was quite tasty and I deeply regretted having to trade half of it with Daisy for a few spears of albino asparagus. It was at this point that Daisy figured out that we would be wise to eschew the asparagus in the future unless it says "la plancha" (braised) on the menu.
For the main course I figured I couldn't go too far wrong with the Pimento Relleno which, according to the menu, was like a chile relleno - only with red peppers. No mention was made of the ground meat that was used to stuff the peppers, or the fact that the red peppers were canned. That was a special surprise.
In the morning we got up early so we could get an early start on our drive to the Rioja wine region. When I opened the curtains I saw that we had a beautiful sunrise so I snapped a couple pix before we headed out.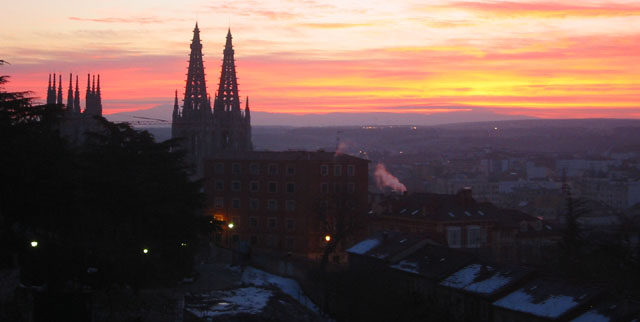 back to Santander and Gijon
on to Haro and San Sebastian