Friday, July 11th
Montana

Upon returning from coffee my uncle had a hearty, sleep-inducing breakfast waiting for us. After eating we packed up, loaded the car, and bid my aunt and uncle farewell. Getting out of town was a simple matter of getting on 200 North and going west about 20 miles through some beautiful wetlands to I-15. From there we headed north. As we rose in elevation and latitude the geography became greener. We passed once again into Idaho and proceeded on to Idaho Falls, where we got onto highway 20 and headed northeast toward the corner of Idaho, Wyoming, and Montana. As we approached Yellowstone we could see the Grand Tetons to our right. Ordinarily I'm a leg man but I had to get a picture:




I was now in familiar territory, having passed this way twelve years ago heading from Yellowstone to Idaho, and on to Boise. The scenery becomes progressively more beautiful even as the radio stations grow progressively more faint. I fired up the iPod again and we listened to a few more chapters of "War And Peace". I find Russian novels difficult because it's hard to keep track of the names (unless the cast of characters and scope of the story is limited to a tidy little gulag). I'm not good with names in any case, and I'm worse when most of the names are unfamiliar to me. As difficult as it is keeping track of the names on the printed page, it's a lot harder keeping track of them with an audio book. To make matters worse, the iPod wasn't really optimized for sound files that are seven or eight hours long (the novel is broken up into eight parts - two per book), and it's risky to try to rewind. Hence, I'm not sure how well I'm keeping track of the story so far. The main character seems to be a fellow named Pierre, but I could be mistaken: maybe it's just because I've heard that name before so it's easier to remember.

But I digress. About the time Pierre and his friends get in trouble with the authorities for tying a policeman to a bear and throwing them in the river, the iPod batteries went out and I was forced to focus on other activities. Fortunately, I was able to keep myself amused by passing every vehicle that had the temerity to occupy the road ahead of me. Daisy however was not amused, so when we got to highway 191 at Yellowstone we stopped for a sandwich, and she expressed her desire to take over the driving duties as we headed north into Montana. It wasn't long however before she too was passing cars and trucks alike.

We rolled into Bozeman an hour or two later and got onto I-90. As beautiful as Montana is, I was getting an uneasy feeling that we weren't in the most politically progressive place in the world. I was pleased therefore, when I saw a bumper sticker that said "We are making enemies faster than we can kill them". I wish I had thought of that one. Anyway, amidst all the christian and country radio stations I was pleased to find a few rock stations. Very white rock stations, mind you, but rock stations nonetheless. Not much in the way of R&B or Hip Hop, oddly enough though.

Another thing that had been conspicuously absent since leaving Logan was Sprint PCS coverage. In Bozeman we briefly had the option of roaming, but other than that it was out of the question to try to send any email from my sprintpcs.com address. As it turned out, we would not have coverage again till we reached Fargo. Ya, you betcha.

We saw some curious things along the way.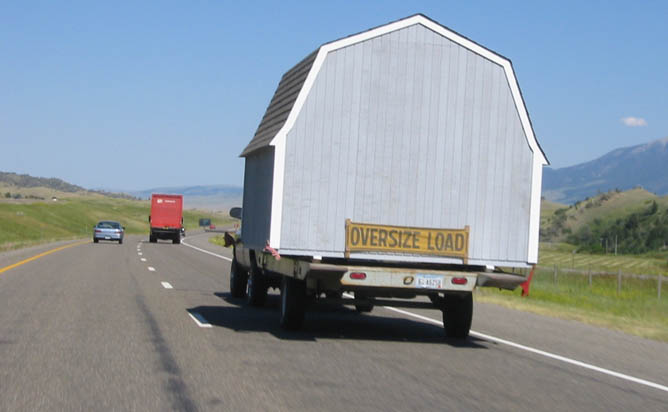 Between the lack of coverage and the lack of my iPod, it was fortunate that the scenery was so beautiful - and the Big Sky State IS beautiful,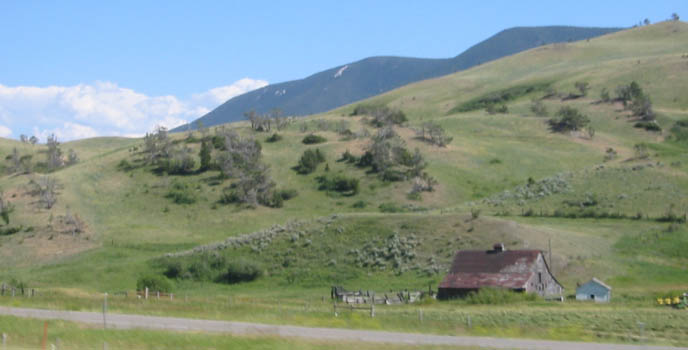 ...at least until you get near Billings where I had had the poor foresight to reserve a room at the Historic Northern Hotel. I didn't take any pictures because it wasn't a very pretty town even though it still has much of the wild west flavor to it. There's a big rail yard and lots of saloons. I was surprised to discover that almost every establishment also had gambling. Like most towns with lots of gambling, it also has lots of pawnshops. I was tempted to go into a saloon and order a shot of redeye but then I saw a microbrewery so we went there instead.

I had brought along my guitar and hard-disk recording system so that I could keep up my chops and maybe practice a few new songs after Daisy flies back, but I had thus far been unsuccessful in getting it to work. I was using new software that Erik and I had invested in, and I just hadn't delved into the manual enough. In the middle of the night I awoke from a dream where I had called Erik up in desperation to ask him how to configure the hardware with the new software. Something had to be done obviously, and I knew from past experience that if I wake in the middle of the night after an evening of drinking - I'm not going back to sleep for a few hours. So, I got out of bed and connected all the hardware, and then cracked the 900-page manual. Either by luck or divine intervention I opened to the page that told me how to monitor my inputs and a couple minutes later I was jamming away (with headphones on, of course) with The Black Crows. After a few more hours alternating between reading, jamming, and recording, I was once again feeling weary, and soon I was able to get back to sleep.


Distance this day:
Total distance:
Previous day in Logan
Next day in North Dakota